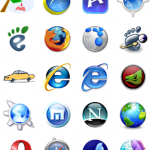 A browser is a platform which enables us to view the world wide web (www) pages. Some of the most popular browsers are Internet Explorer, Mozilla Firefox, Opera, Google Chrome and Apple Safari. Besides some common features, each of these browsers is equipped with some unique ones to help you decide which one would you like to pick up for your internet usages.
The kind of Internet browser you have, will determine on the kind of web surfing experience you enjoy. Even though most people download a couple of browsers to use them for different activities, it is however recommended, not to. Using too many browsers at the same time can create a conflict amongst them and you may find many of your web applications not responding properly.
Now coming to which browser would be the best to surf the net, here are a some basic features one needs to keep in mind:
Ease of use: Along with a stylish look, the browser needs to be such that even novice users feel comfortable while surfing the net. Too many complicated features will create confusion in the user's mind. In contrast it should provide an easier way to surf, such as tabbed interface and inbuilt web-search.
Good Security: This is a prime factor while deciding on the browser one chooses. We are all aware of certain websites giving a virus attack to our PC's, as soon as we visit them. Most of the times, we are unaware which of these websites are harmful to browse. A browser should not be vulnerable to such attacks. At other times, pop-ups intrude and hamper the smooth browsing. So a browser needs have an inbuilt pop-up blocker too. Another aspect one needs to take care of is ongoing phishing, where a user's sensitive information like password and credit card details can be easily leaked out. A browser with good security features would see to it, that you can have a relaxed online experience.
Speed: A browser should be equipped to provide good surfing speed. It should not take ages to open a graphic intensive page and java enabled applications. Along with the internet speed, browsing speed also depends on how long your browser takes to process the pages and run scripts on them.
These are a few things that you would need to keep in mind while selecting web browser, so as to make your surfing experience an enjoyable one.